Since 1971 the Center for World Music has sponsored educational programs and cultural tours abroad, many including hands-on music and dance workshops, to diverse areas of the world, such as Indonesia, Ghana, Turkey, China, Mexico, Peru, and more.
Participants in CWM's Programs Abroad have attended hands-on workshops with distinguished performing artists in Bali, Java, Sumatra, Ghana, Turkey, Mexico, China, and Peru. While on location, they have visited famous historical and cultural sites such as the Bali Arts Festival, Borobudur, Lake Toba, the National Theatre of Ghana, Haggia Sophia, Tlacotalpan, the Forbidden City, and Machu Picchu.
Please bookmark this page and check back for future tours!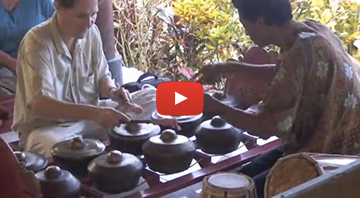 At its Flower Mountain center in Bali, the CWM has hosted groups of students of the performing arts from the University of Illinois, UCLA, the California Institute of the Arts, Southern Methodist University, Gettysburg College, St. Mary's College, Warren Wilson College, the National University of Singapore, and San Diego State University. Also participating in Center-sponsored events at Flower Mountain were a group of teachers from the CWM's world music in the schools program in San Diego, a group of K-12 teachers from Seattle, a group of mbira players from New Zealand and Japan, and an undergraduate drama group from Hartwick College in upstate New York.